Nicola Weldon is an award winning wedding makeup artist, with an incredible distinctive style. Nicola creates beautiful and elegant looks for almost 4 years now and we had the pleasure of chatting to her about her business, favourite looks and more!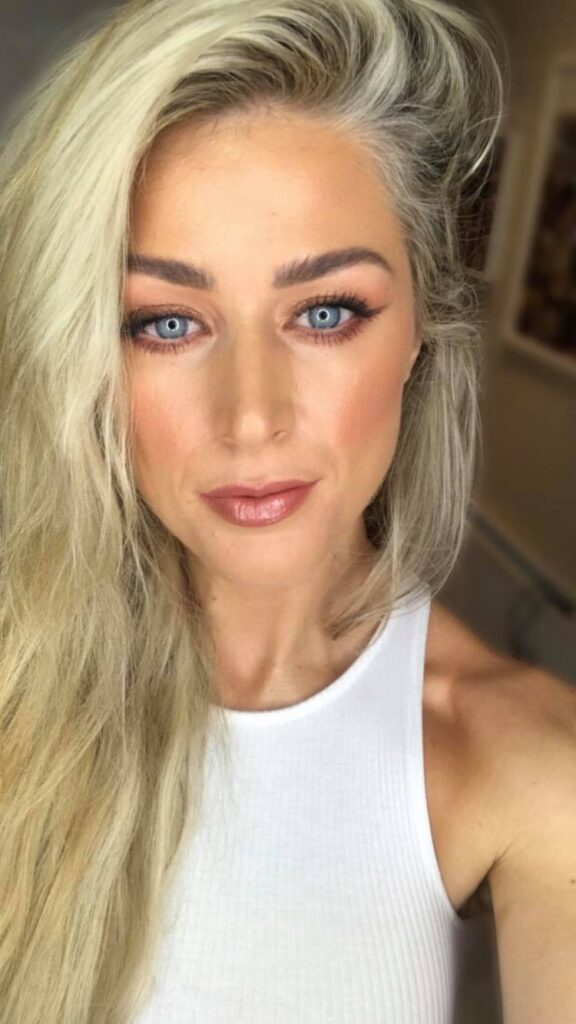 Q: Who is Nicola and how did you become a makeup artist?
Nicola: I am Founder & Head Makeup artist at Nicola Weldon Makeup, I'm also a wife and a mother to 2 gorgeous kids Megan and Cooper.
I would say that I'm a very creative, fun loving person and I love all
that is beauty, fashion and of course a stunning wedding.
I'm am lucky enough to be able to be a part of such an amazing
day for so many brides making them look and feel the best
version of themselves.
My career ignited in my belly when I was 13 years old, trying out makeup looks on my nearest and dearest. It wasn't until I was 15 when my aunt had asked me to do her bridal makeup for her wedding that the love affair began. The excitement and buzz of the wedding morning made me want to be a part of many more.
I set up my business almost 4 years ago, after many years of toying with the idea and working in IT. I eventually took the plunge! Today I am so lucky to say I am privileged that I have so many weddings under my belt within this short space of time and that brides put their trust in me on one of the most important days of their lives. Makeup for me is always about enhancing your natural beauty rather than masking it. There are generally no rules or boundaries with makeup and with the right base the possibilities are endless.
Being a Bridal makeup artist my philosophy within this industry is to empower and transform brides with confidence and an air of perfection as if they have just stepped out of a glossy wedding magazine.

My most prestigious accolades or career highlights to date:
Winning Highly Commended in the IRISH WEDDING AWARDS 2020 in the category of bridal freelance makeup artist of the year.
I also won Best New Business in Meath in the MEATH STYLE AWARDS 2019.
Doing the wedding for an International Italian Runway Model who featured in Italian Vogue Eleonora Serpi
Q: Can you share with us your typical day for when you are doing bridal makeup? How do you prepare?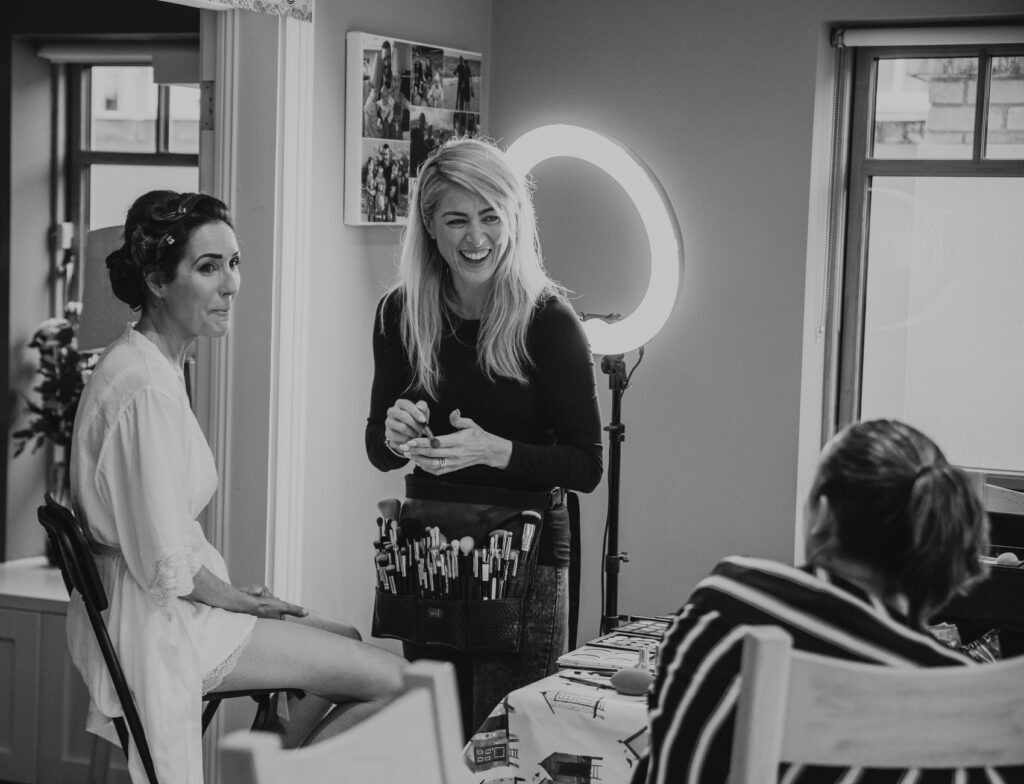 Nicola: For me for a wedding morning from a makeup artist point of view is all down to the preparation before the big day.
I like to be very present with all my brides and I like to check in with them as often as I can. A little email or text here and there to make sure there skin is playing ball and that they aren't stressing about anything. I try to help as much as I possibly can.
A morning schedule is key, I send this to the bride about 1 month in advance so that she can send it to the hair stylist, that way we can work in sync with each other for a very smooth execution of hair and makeup on the morning. The night before I have my case packed and waiting by the front door for an early start.
The morning of the wedding for me personally is so exciting, being part of a bridal morning is such an amazing experience from the themes to vibrant colours and I also get to visit amazing venues too. The bride and bridesmaids are on such a high. There is chat about the weather and will the rain hold off. For them getting ready that morning feels and looks like a Denny's ad with them washing down a saucy sambo with a glass of prosecco.
As a makeup artist, I have also become a close friend to the bride on the lead up that on the morning it feels like a good friend is getting hitched. We all laugh together get slightly emotional on the gift from the hubby to be and have the craic while creating the most amazing look for my brides and their bridal squad. The mammy of the brides are generally flustered and try to keep themselves busy with endless cups of tea, pre covid endless amounts of hugs. So for me I try to keep the atmosphere as calm as we can possibly make it so that they know we are there but we aren't in the way, that we are almost part of the family.
Q: Do you have any tips for a bride to prepare her skin on the lead up to her wedding day?
Nicola: Your skin will be the base to your overall bridal look, so you'll want to make it the freshest most radiant canvas possible. I recommend booking a consultation with a skin professional and starting a smart skincare routine about a year in advance. That may seem like an excessive timeline but it allows the time for any corrective work to be done, for example re-texturing the surface of the skin if it's uneven, addressing any congestion or pigmentation. It's honestly never too early to begin prepping your complexion for wedding radiance.
Remember SPF is your best friend all year round and factor 50 is a must
Alongside your daily skincare routine, pamper yourself with a course of glow boosting facials every 4-6 weeks, the massaging of the skin, scalp and décolletage will stimulate blood circulation and get your skin looking and feeling really healthy. It's an investment you'll be glad you made when you look back at your pictures.
Remember to also think of looking after your skin from the inside out. Get a good multi-vitamin supplement, a high dosage Vitamin C and also some Omegas that will help keep your skin soft and smooth. If you aren't having the correct amount of nutrients that your body needs, it will show in your hair, skin and nails.
And finally it's easier to prevent your lips from getting chapped than it is to repair them if they're already dry and cracked. If you spend lots of time outdoors, especially in windy, sunny or cold weather, a thick balm with SPF 30 will keep your lips hydrated.
Q: What is your favourite look to create?
My signature style is a very glowy polished look for the skin and a Smokey eye with a nude lip. I obviously cater for all bridal visions but for me this is what I love to do. With good skin prep the canvas for the foundation will be flawless which will allow the focus to be on the eyes and they are after all the windows to our soul.
Here are two examples, a very natural look in the first 2 photos to a little more glam in the other 2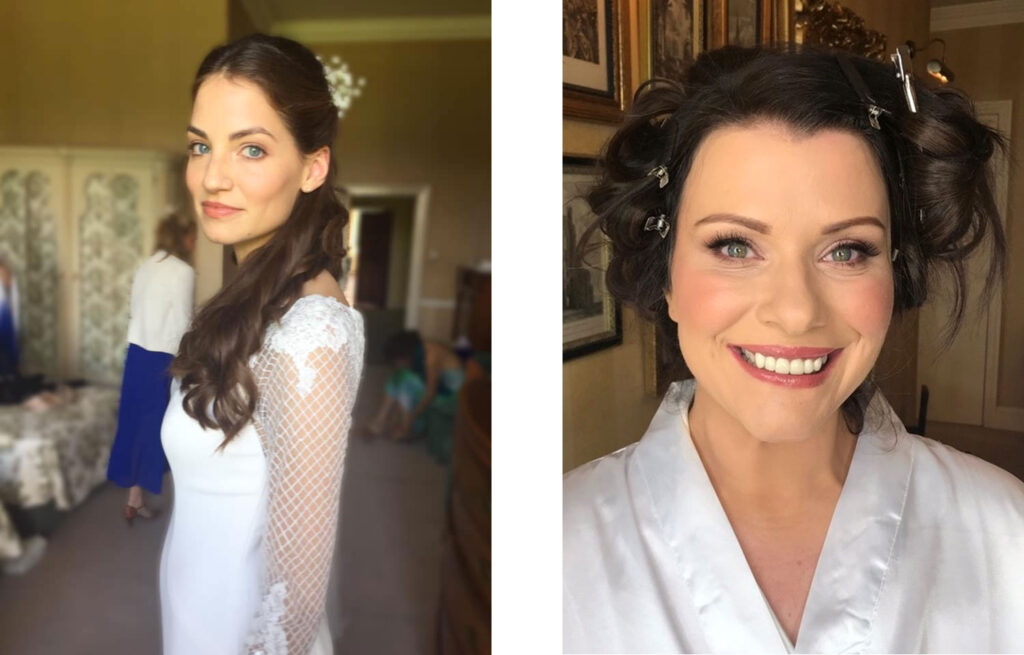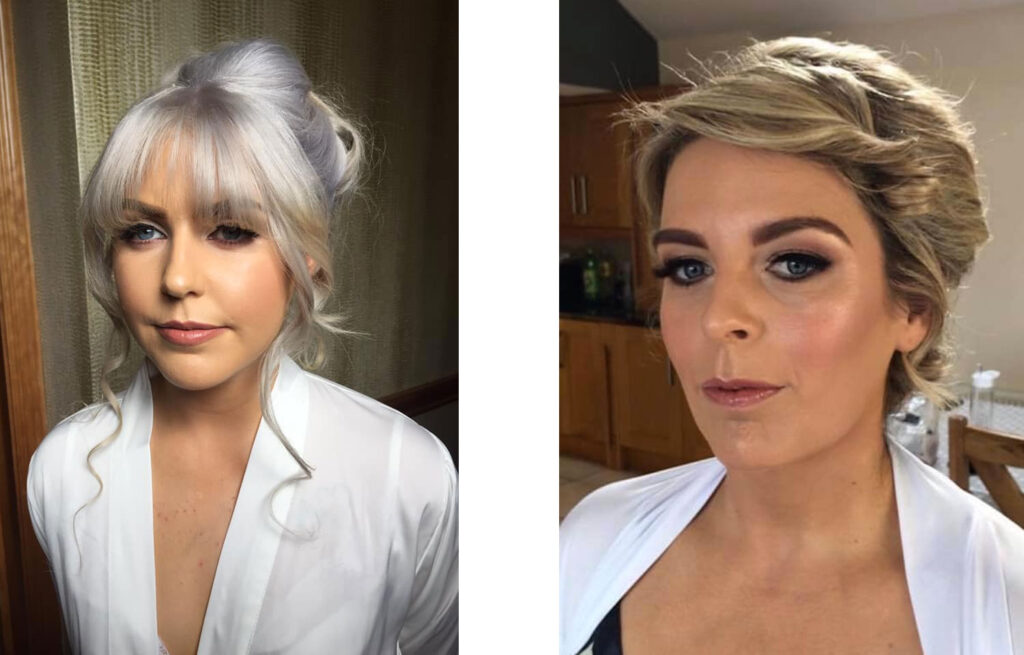 You can contact Nicola via her Facebook Page HERE