We had the absolute pleasure of chatting to Michelle from Kinn Óir, a luxury Irish Bridal Accessories brand, specialising in unique, timeless veils and headpieces, which will add the perfect finishing touch for your special day.
Q: How did you start the business?

Michelle: I officially opened Kinn Óir in July 2019. I had been in the wedding industry part time as a wedding planner and florist and it was while I was having my dream dress made by an atelier in 2016, that I began searching for a beautiful hair accessory for my wedding day. I had gone back to wire work and jewellery making a hobby I had in my teenage years and made some pieces for friends and family including beautiful bespoke wedding pieces. I then flew to Italy to a trade fair to choose pearls and meet coral carvers and had the element for my own piece. My mum made her own wedding dress, veil, silk turban Headpiece and cake. She also made my communion dress from fine lawn muslin and a Carrick Mac cross veil and Headpiece so I have grown up in a very creative house with an emphasis on practical skills as well as academic, so it was second nature to me. I could use a sewing machine at the age of 6 or 7 and was able to hand embroider some handkerchiefs.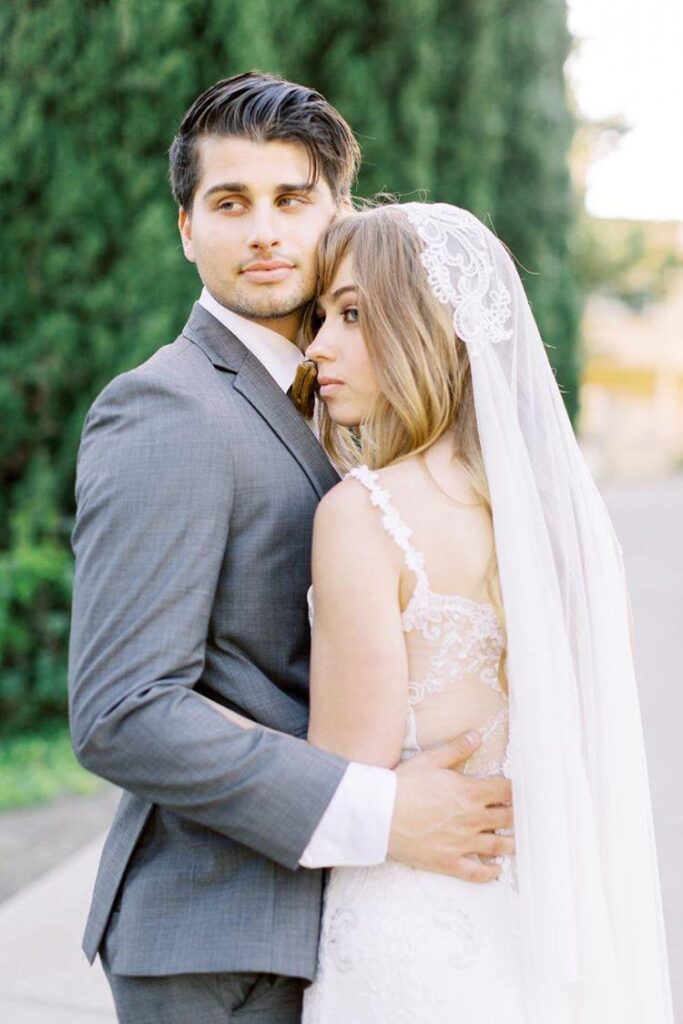 When I wore my own Headpiece for my wedding day I absolutely loved it, knowing it was made to the absolute highest standard. I remade it 3 times until I was happy with it. I had seen a Headpiece in a shop on my search for before I made my own and I had later found it for 7 dollars on eBay. After my wedding, I noticed companies re-selling products from Ali Express and it made me realise that there was a gap in the market for luxury Irish hand made veils and Headpieces.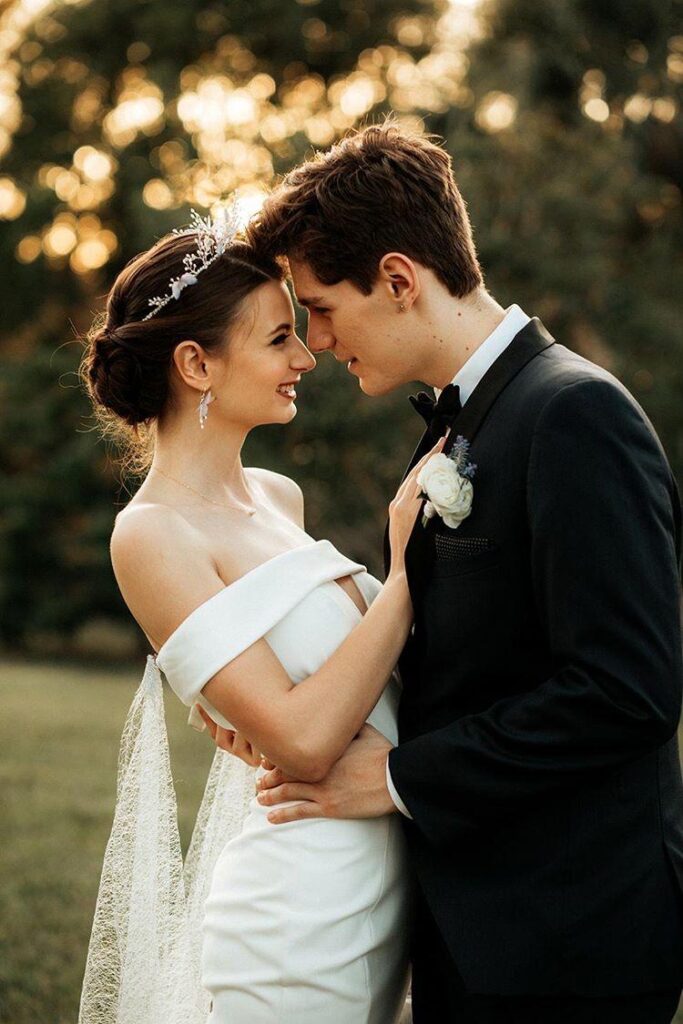 After making bespoke vines and combs for friends weddings, I threw myself into preparing my brand and developing my first Collection and all the work behind the scenes that come with opening a business. I launched in July 2019 and celebrated a year in business last month!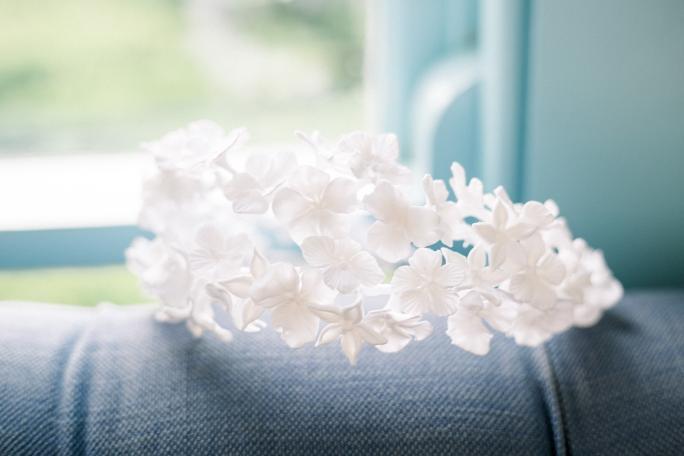 Q: Where do you get your inspiration from?

Michelle: The name Kinn Óir came to me on the bus one day when I was going into work. Chinn is the Irish for head ( I spelt it with a K so as to help international customers and avoid problems the Italian brand "moschino" has with pronunciation!) And Óir meaning golden. It comes from the Irish legend of Niamh Chinn Óir and Óisin from Tír na nÓg. My philosophy is eternity and the wedding photos being immortalised forever and the bride and groom wanting to relive it over and over and reminiscing about the day. I wanted to create pieces that would become modern heirlooms and be treasured keepsakes. Each collection is different. My Stardust collection was inspired by my favourite poem by WB Yeats. I worked on it designing it during the winter months. I released it at the end of January with 12 pieces like the 12 signs of the zodiac. My next collection called "In bloom" which I released 5 months later in June, took a completely different direction to what I had originally planned. I was meant to release it March or April but due to the Coronavirus I put it on pause. Being only in the fledgling stage of a business, it was very hard to be hit with the pandemic. I had just left my day job before lockdown and for the first time I was able to work from home and walk around my local area taking in the nature within the 2km range of course and really "see" the flowers and leaves. I had worked through every summer never taking holidays between may and September because it was our busiest period in work so I never had the chance to see summer blooms and really look at them. I decided to take my time with the Collection and base it on Irish wildflowers. I was also desperately home sick for my parents and granny and all the places I spent my happiest childhood memories as we are the only ones in Dublin so there is a hint of nostalgia with vintage style laces and point d'espirit tulle. The 15 pieces were received very well.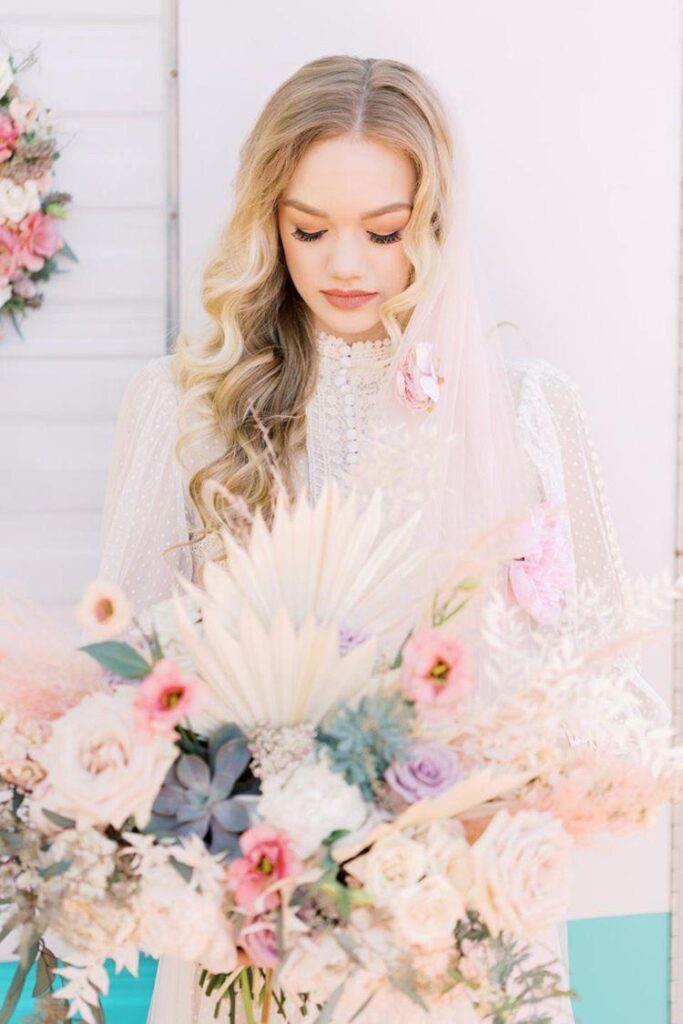 I am now working on some 2020 editions for the signature collection and Summer Blossom collection and have a range of crowns coming as well. I have never been as busy since May, it has really picked up and I have only taken a handful of days off. My bespoke service is the most popular. I am able to work with brides from either what they have seen from my collections or inspiration from their dress or their vision. By working on sketches and the photos they send me, I am able to give them a quote and I work on their bespoke piece and send regular photo and video updates so they can see their piece come to life. If it's a veil I am working on, I send a Swatch sample and then they can match it to their dress and give me the measurements and I am able to make it and send it. I have had so many happy brides, but I only share their bespoke pieces once their wedding is over. I love to create something unique for them that they will treasure and give them a special experience of designing it with me.
Q: What have been the challenges so far?

With any new business the road is full of twists and turns. I was taken for a bit of a ride with the first website designer I had, so I was delayed by about 6 weeks and had to cancel my launch party. By the time it went live I was frustrated but thankfully I have a new company taking care of my website now and haven't looked back. I also was scammed by a packaging company and lost a 4 figure amount that I could not get back. It almost put me out of business. It's surprisingly easy to happen and shockingly common from speaking to other entrepreneurs. It took a few months for me to get my first order as no one knew about me! Covid 19 arrived just when I had given up my teaching job to focus on Kinn Oir full time! It was a shock. I still worked every day, but my days were shorter. I focused on social media and helping brides with my background in wedding planning and ran several successful competitions. From May onwards it picked up and I've been really busy.
I didn't qualify for the Covid-19 payment so it was very hard working for 3 months with no orders and income and I have been very generous with discounts for brides who lost money on having to postpone. When I celebrated one year on July 18th I gave away 3 Headpieces and 27 vouchers in a week. The Local Enterprise office had warned me that lots of sacrifices were necessary in order to stay afloat, so I actually had to put the money back into the business. I have learnt so much over the last few years particularly the last year and have had the pleasure of helping so many brides and given them wonderful experiences to remember as well as the privilege of getting to make their veil or headpiece for their special day. I have lots of exciting plans for Kinn Óir so watch this space ! ❤️
To see Michelle's superb collections, visit her website at kinnoir.ie