If you are thinking of getting married in an Irish castle and having a fairy-tale wedding, then any of the 20 recommended venues below will be a perfect choice for you. Most of the castles can accommodate wedding receptions inside their main historic buildings, but their grounds should also be considered as options to host larger marquee celebrations.
Cabra Castle, Co. Cavan
Built in the 19th century, Cabra Castle has an impressive reputation for memorable weddings. The multi award-winning wedding venue is surrounded by 100 acres of wonderful manicured gardens, which will make a truly magical setting for your big day.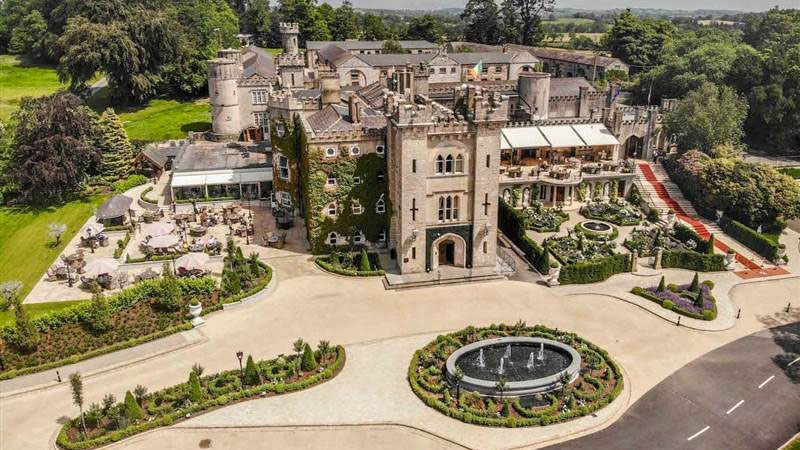 Ballyseede Castle, Co. Kerry
Located only 5 kilometres away from Tralee, Ballyseede Castle is one of the most beautiful wedding venues in the South West of Ireland. The elegant surroundings of the castle set on over 30 acres of private gardens and woodland, Ballyseede Castle will make a perfect venue for your dream wedding.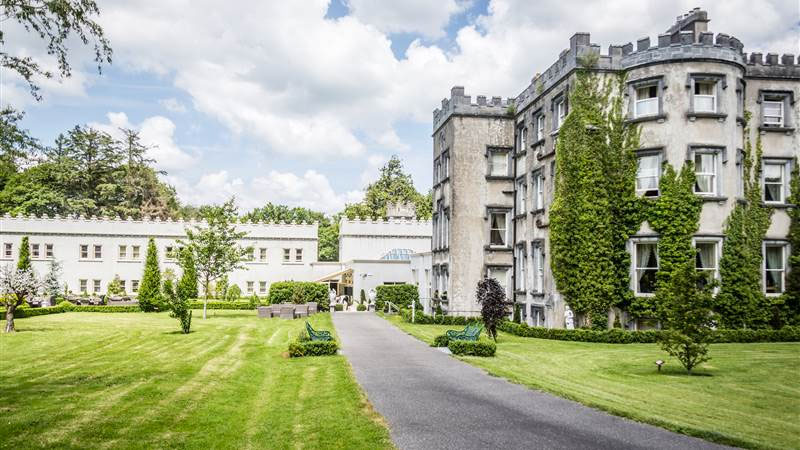 Bellingham Castle, Co. Louth
Located in the heart of the medieval village of Castlebellingham, Co Louth, this exclusive 17th century castle wedding venue is very romantic and has some really beautiful surroundings.
Did you know that back in 1905, Bellingham Castle was the venue for the romantic wedding celebrations of Augusta Mary Monica Bellingham, daughter of Sir Alan Bellingham, 4th Baronet; to the 4th Marquis of Bute, John Crichton-Stuart. As the society event of the year, the wedding attracted world media attention, from California to New Zealand!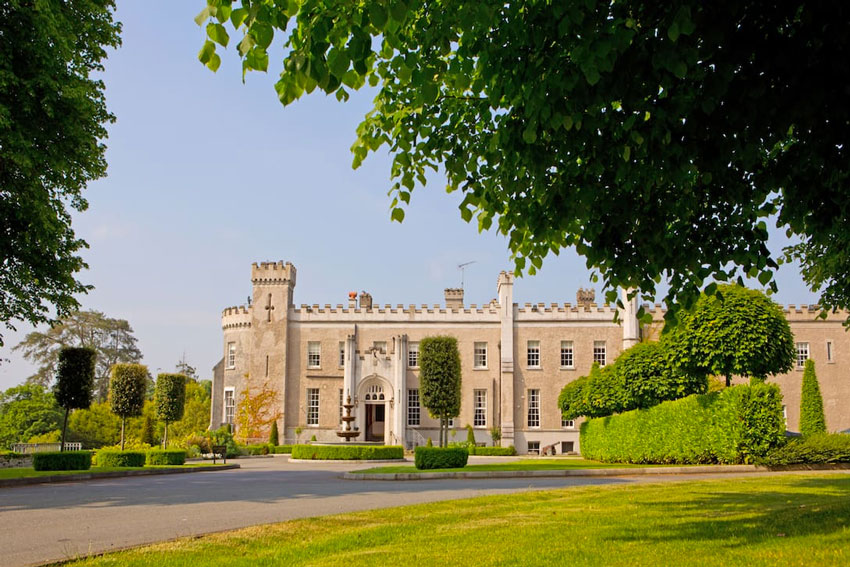 Markree Castle, Co. Sligo
Markree Castle is a charming historic wedding venue, set in the heart of County Sligo. It has an idyllic location on over 500-acre picture-perfect estate. It is said that the poet William Butler Yeats found his inspiration in this romantic landscape!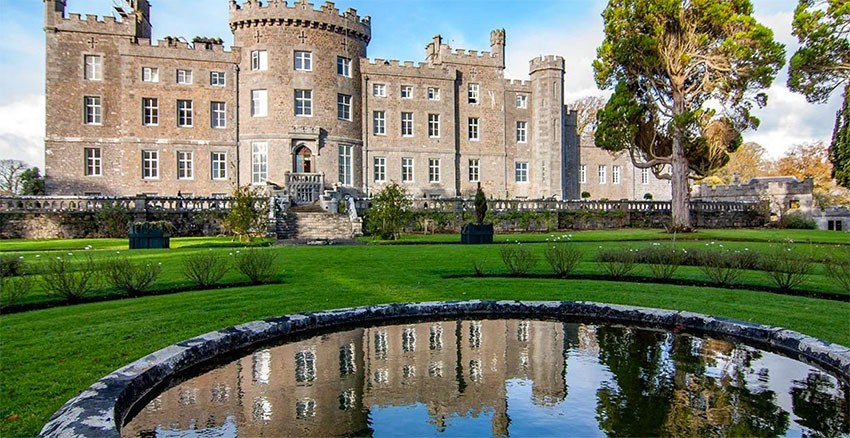 Kilronan Castle Estate & Spa, Co. Roscommon
Situated in County Roscommon, in a secluded corner of the idyllic West of Ireland, Kilronan Castle is one of the most beautiful luxurious wedding venues. The castle's ballroom is truly magnificent and is the perfect fairy-tale setting for your wedding day.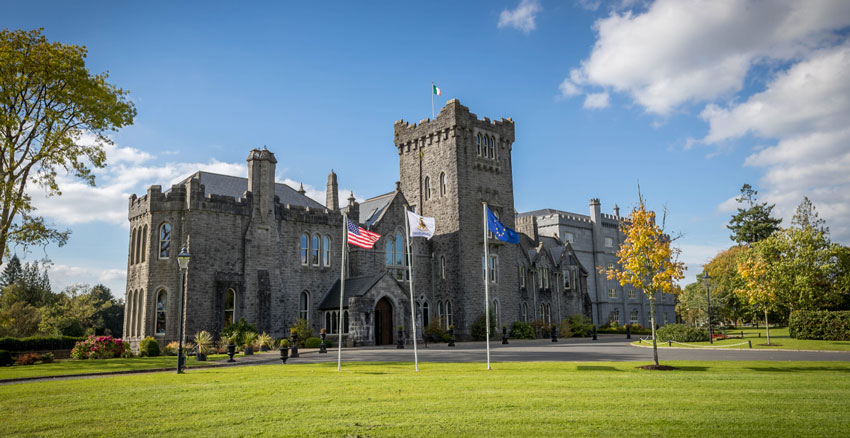 Barberstown Castle, Co. Kildare
The castle built in the 13th century, is renowned for its fantastic atmosphere and is steeped in a rich history, highlighted through fabulous interiors, art, antiques and furniture.  Over 700 years old, Barberstown Castle is an elegant and unique venue for your wedding, conveniently located just 25 minutes from Dublin city centre.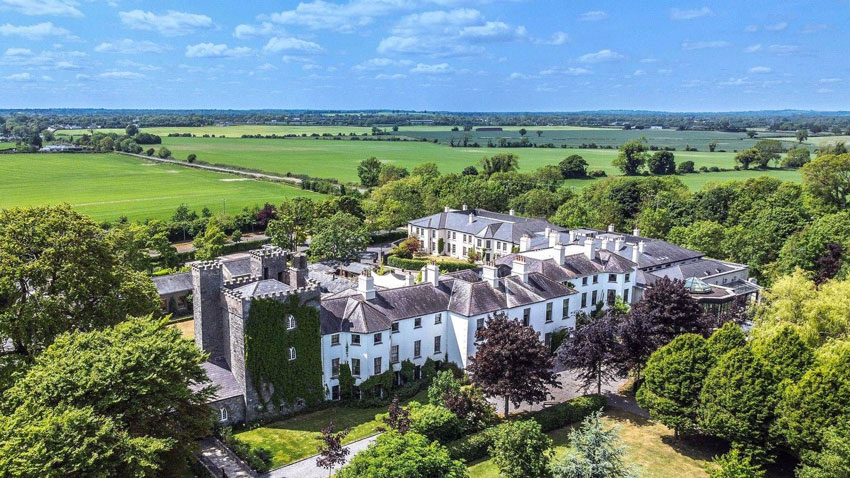 Castle Leslie, Co. Monaghan
Castle Leslie Estate is the ultimate Irish rural escape which offers authentic original interiors, full of character and charm. You can also enjoy some beautiful woodland walks on the castle grounds – over 1,000 acres. Castle Leslie Estate is the perfect, breath-taking venue for your wedding celebration!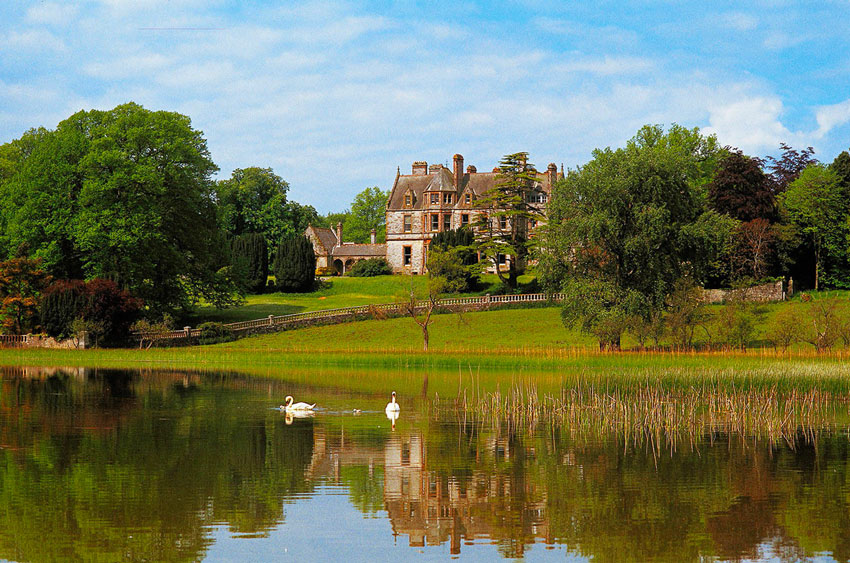 Castle Durrow, Co. Laois
Set in a beautiful, 18th century building, Castle Durrow offers a timeless setting for your wedding. This castle is proudly one of Ireland's most popular wedding venues and has numerous commendations from past couples.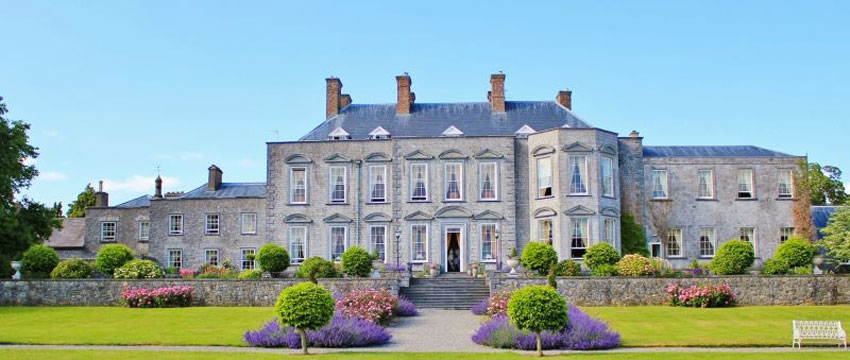 Belleek Castle, Co. Mayo
Built on an Abbey dating from mediaeval times, the 1820's neo-gothic Castle is informal, cosy, warm and friendly, rich in decor and antiquities, with open log fires to light your steps back through this cultural adventure. Belleek Castle will offer a very romantic setting for your big day.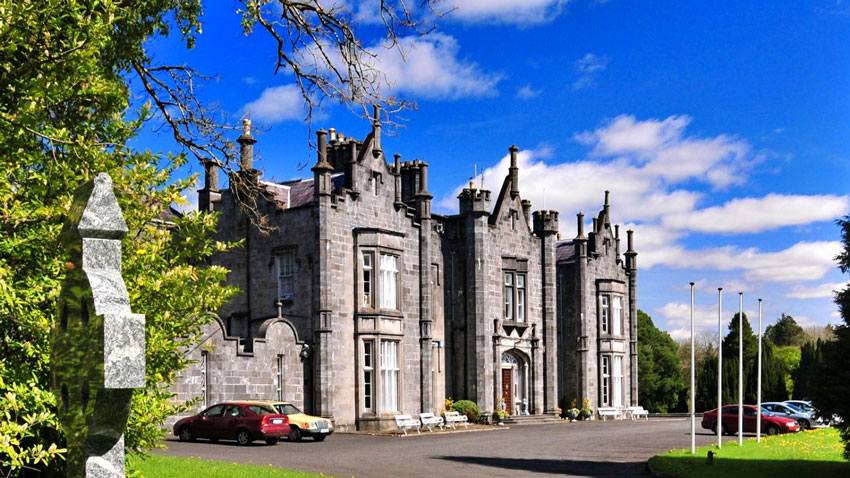 Kinnitty Castle, Co. Offaly
Located in County Offaly, in the foothills of the Slieve Bloom Mountains, this medieval castle that dates back to 1209 was turned into a hotel with 37 lavish bedrooms with original features of that period. Also known as Castle Bernard, Kinnitty Castle offers a variety of top-class wedding packages to suit all tastes and budgets.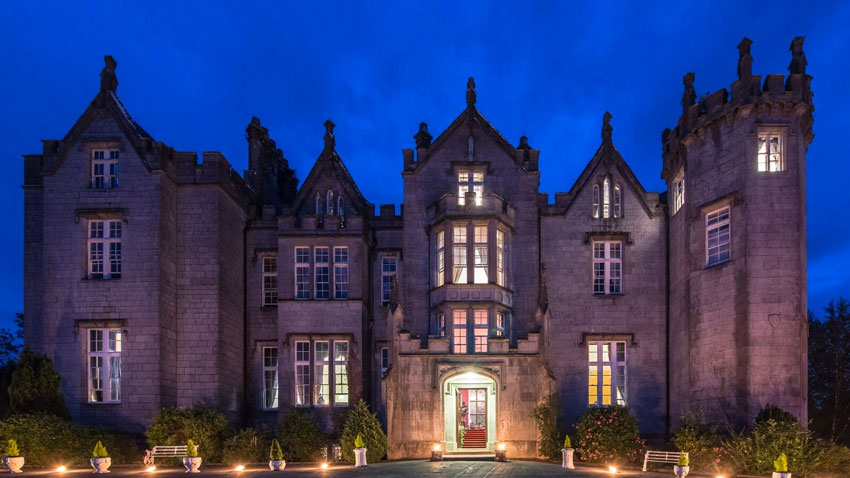 Waterford Castle, Co. Waterford
Waterford Castle is actually standing on its very own island the River Suir. The castle was built in Gothic style and is one of the most acclaimed castle wedding venues in Ireland with a rich history.  With a beautiful setting, the luxurious Waterford Castle will make the perfect venue for your big day.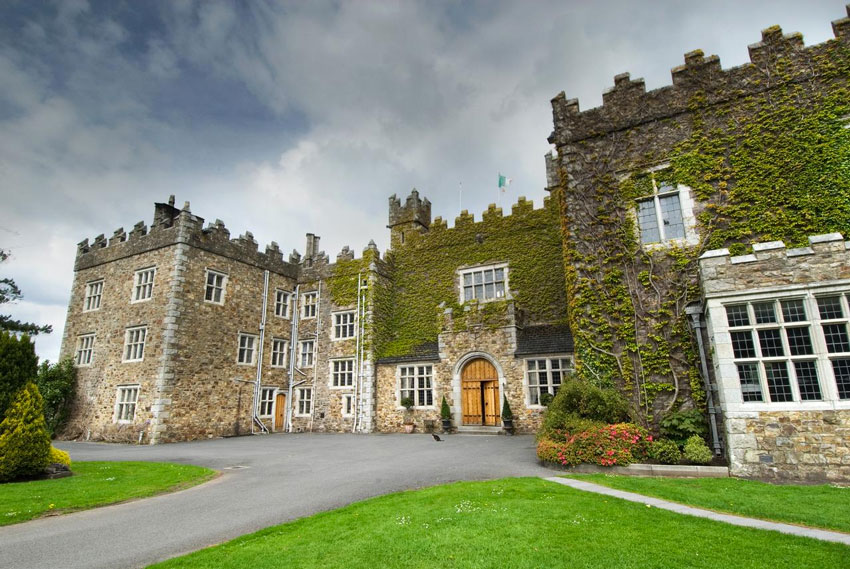 Clontarf Castle, Dublin
Located just 10 minutes from the heart of Dublin City Centre and 5 miles from Dublin Airport, the Clontarf Castle is an oasis, tucked away in a tranquil setting and surrounded by golf courses and the sounds of lapping waters from the Irish Sea. Clontarf Castle has a fabulous location and offers a perfect backdrop to any fairy-tale wedding.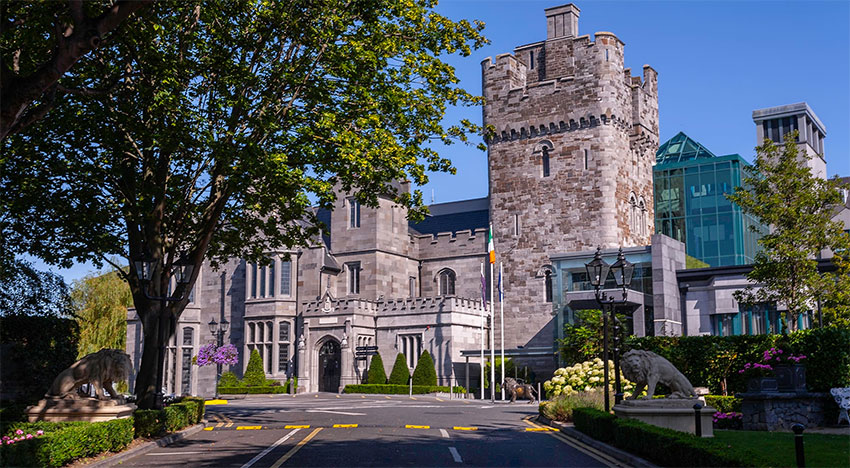 Lough Eske Castle, Co. Donegal
Lough Eske Castle is a 5-star hotel located about 10 miles away from Donegal town, on a secluded lakeside. Its history dates back to 1400s and is a multi-award-winning wedding venue. Lough Eske Castle has a romantic setting, situated on the shores of Lough Eske and within 43 acres of untouched forest at the foot of the Blue Stack mountains. The Victorian walled gardens are simply breathtaking!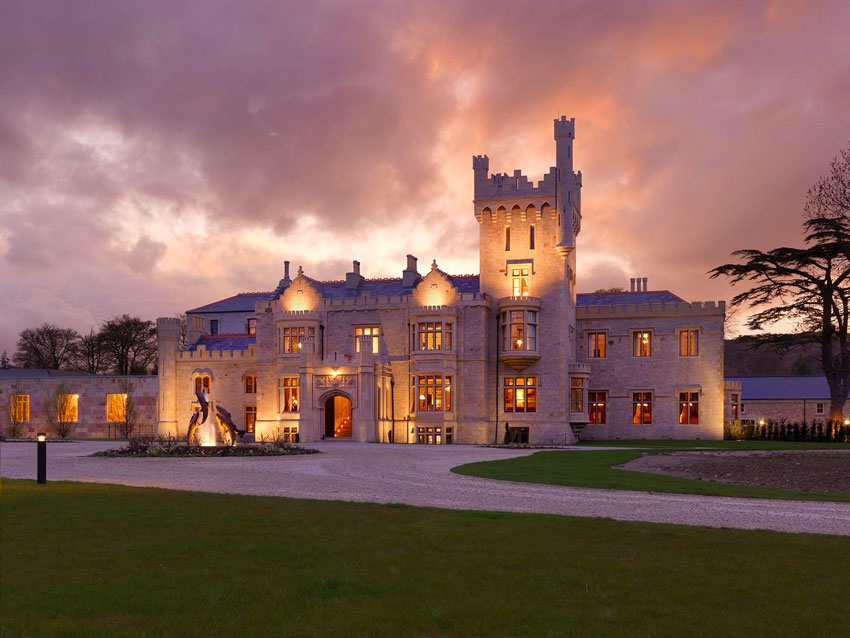 Bunratty Castle, Co. Clare
Bunratty Castle & Folk Park is one of Ireland's most historic castles on the West coast of Ireland. Nestled in the historic heart of the village of Bunratty, this 15-century castle is famous for its charm & romance.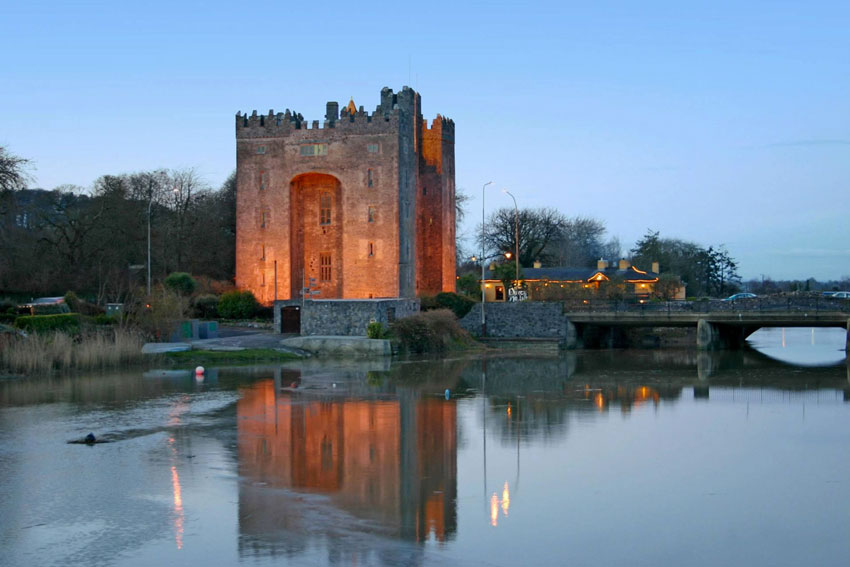 Ashford Castle, Co. Mayo
Ashford Castle offers the perfect venue for your relaxed, romantic and totally unforgettable Irish castle wedding. It really is the most perfect choice of venue if you plan to host a spectacular wedding celebration. Ashford Castle looks like it came out from a fairy tale. The castle is very popular as a wedding destination venue because of its romantic gardens, lavish rooms and interior and breathing views of Lough Corrib.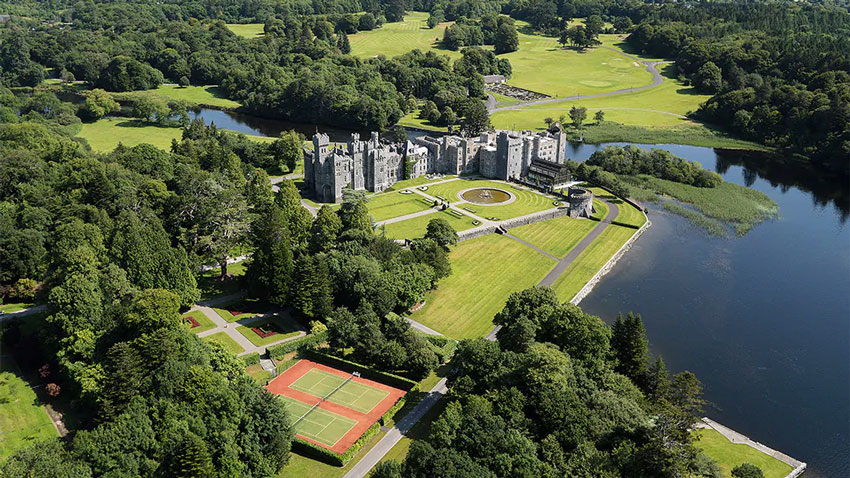 Luttrellstown Castle, Dublin
A historic castle with an impressive Gothic façade, Luttrellstown Castle is one of the most luxurious wedding venues in Ireland. The castle's magnificent ballrooms and manicured walled gardens offer the idyllic setting for your wedding day.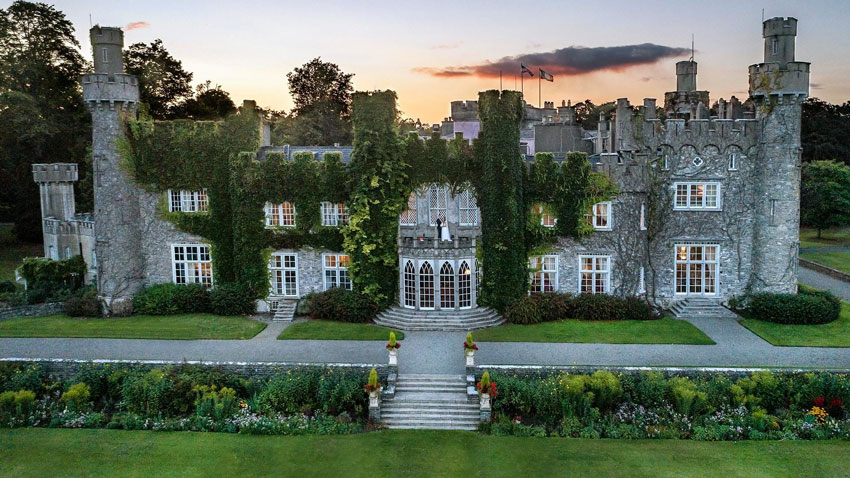 Fitzpatrick Castle, Dublin
Built in the 18th century, Fitzpatrick Castle is an ideal venue to celebrate your wedding in style. With sparkling chandeliers, deep wood furnishings and tapestries, this castle offers a truly majestic atmosphere. The private gardens can also be used exclusively for your wedding.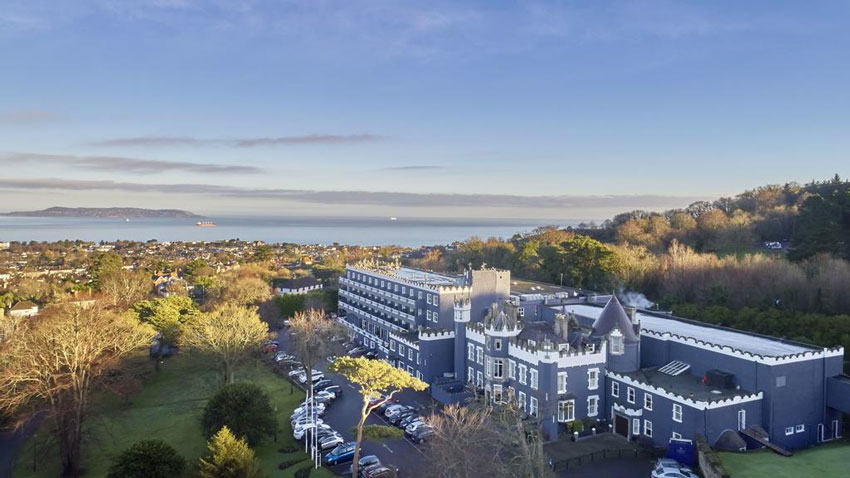 Dromoland Castle
Dromoland Castle is one of the finest 5-star castle hotels in Ireland. The castle has some wonderful walled gardens, manicured lawns and a beautiful rose garden. Dromoland Castle promises "history and grandeur and luxury all wrapped up in a truly bespoke experience."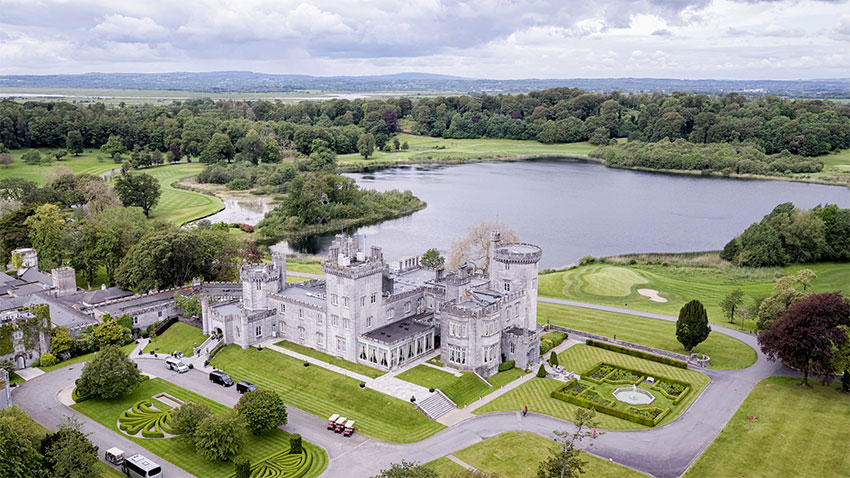 Lough Rynn Castle, Co. Leitrim
This 19th century castle, will most certainly offer a romantic setting for your wedding. The magnificent Lough Rynn Castle Estate & Gardens wedding venue is the perfect backdrop to the kinds of fairy-tale weddings.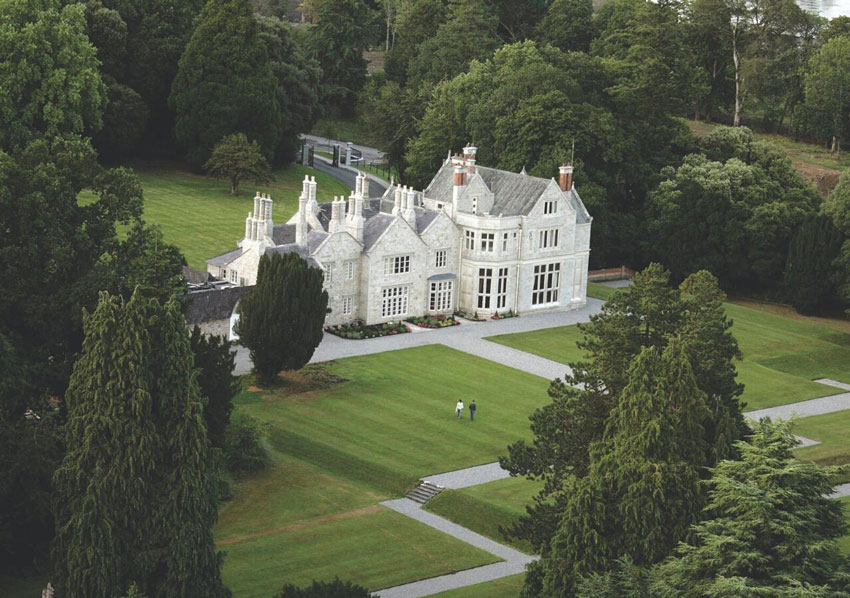 Adare Manor, Co. Limerick
A fairy-tale castle set in 840 acres of gently rolling parkland in the heart of Ireland, nestled on the banks of the glittering River Maigue. Adare Manor is truly a magical place to host your perfect wedding day.